In the same way, deacons are to be worthy of respect, sincere, and must keep hold of the deep truths of the faith with a clear conscience. Those who have served well gain an excellent standing and great assurance in their faith in Christ Jesus.
1 Timothy 3:8-9,13 NIV
The deacon board is here to serve the church and the community in the manner that God has instructed in the Bible. Call on us when you are in need–of prayer, material assistance, or a kind word. We are here to provide or direct you to the help you need.
Deacon Derrick Tillery, Chairman
Zion Baptist Church Deacon Board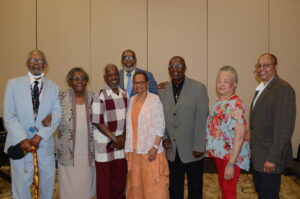 Deacons are assigned by zip code. Find your deacon below.
team a
coordinators: deacon Henry Merrick & deacon tony Mcmiller
team member: deacon Margaret Imogene Jordan
Zip Codes: 45205, 45206, 45207, 45211, 45214, 45219, 45220, 45223, 45225, 45229
---
team b
coordinators: deacon derrick tillery & deacon ella-louise manigan
team members: deacon emeritus robert pouncey
Zip Codes: 45208, 45209, 45212, 45213, 45216, 45217, 45224, 45227, 45232, 45236, 45237, 45239, 45243
team c
coordinators: deacon robert todd stewart & deacon cheryl f. waters
Zip Codes: 45011, 45050, 45069, 45107, 45140, 45150, 45215, 45231, 45240, 45241, 45244, 45246, 45247, 45249, 45251, 45254, 45255