Introducing The Duly Installed
21st pastor of zion baptist church Reverend Zion m.d. McGregor.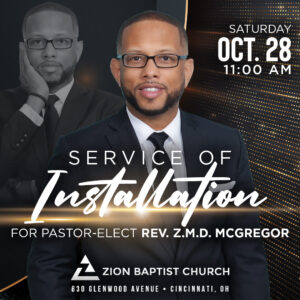 On October 28, 5023 Zion installed Rev. Zion M.D. McGregor as our 21st pastor. This milestone in the church's history featured speakers from around the country and city. The keynote sermon was delivered by Rev. Blake Wilson, pastor of Crossover Bible Fellowship of Houston Texas.
Reverend Zion McGregor is new to Cincinnati but feels that he was meant to be here. As he recently remarked, "Many preachers I've talked to from around the country said 'It's Providence that you're at Zion. How many preachers named Zion have a church named Zion? God must have put that together.' " He comes to the church with respect for her 180-year history but a zeal to re-energize her for the future. He plans to invest in the development and strengthening of Bible-based ministries, family enrichment, church missions, youth leadership and education programs, and enhanced community service in the 21st Century. He sees a refocused Zion Cincinnati as "a Bible-based Christian fellowship loving God, living with purpose, and leading others to do the same." Above all, his greatest God-given desire is to lead God's people as a loving and caring shepherd.
Rev. McGregor is a native of Fort Worth, Texas. He follows in the pastoral footsteps of his great-grandfather, the late Dr. C. C. Harper, former pastor of the St. John Baptist Church of Dallas, TX, and his father in the ministry, the late Dr. Caesar A. W. Clark, Sr., former pastor of the Good Street Baptist Church of Dallas, Texas. He received his Bachelor of Science degree in Biblical Studies from Arlington Baptist College, his Master of Divinity degree with a concentration in Homiletics and New Testament from Southwestern Baptist Theological Seminary, and is currently completing a second Masters of Theology degree at Rawlings School of Divinity, Liberty University, Lynchburg, VA. Additionally, he has studied abroad at a scholar abroad program at Regent Park College, Oxford University, Oxford, England and at a research-intensive Urban Evangelism Practicum in Vancouver, British Columbia, Canada.
Rev. McGregor has served on the ministerial staffs of the Church Without Walls in Houston, Crossover Bible Fellowship, and the Pillar Church in East Forth Worth. In 2020, he contributed to the best-selling book, Urban Apologetics: Restoring Black Dignity with the Gospel. Dr. McGregor is the founder and Executive Director of the Urban Christian Writer's Guild, an African-American Christian platform that advocates for and highlights African-American Christian scholarship. He has been a guest on numerous podcasts and various social media platforms to discuss urban apologetics, the state of the African-American church, and more. His essays, articles, and sermons have appeared in publications including The Evangelical Report and Publication, Cross Bearer E-Magazine, Gospelflava.Com, the National Baptist Convention USA website, and various blog sites.
Rev. McGregor is a member of Alpha Phi Alpha Fraternity Incorporated. He is a loving husband and father of four children.