Sunday, January 17
11 AM
(10:55 Prelude)
Inspirational MLK Interfaith Worship Service: Sharing Dr. King's Dream of One Nation
Thank you to all who participated in our Interfaith Worship Service & Celebration of Dr. King's always timely message for people of all faiths.
We commemorated the life and mission of Dr. King during our regularly scheduled Sunday morning worship service.
The message was brought by Rabbi Robert Barr of Congregation Beth Adam. Click the letter to the right for more details.
Special Guest Performers: Cincinnati Symphony Youth Orchestra Nouveau Chamber Players.
Click the link to the left to watch the playback of the service.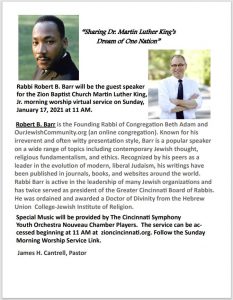 Most other activities
are on hold until further notice.
901 total views, 2 views today